Take advantage of a week-long Japan Rail Pass to explore the major cities of Honshu on this air-inclusive vacation. Fly to Tokyo and then explore Nagoya, Kobe, Hiroshima, Kyoto, and Nara to see famous Buddhist temples, venture through mighty castles, and experience a taste of the nation's many wonders.
SAVE $200 on Japan Delights with Goway
ALL IN PRICE: $2669 CAD
LIST OF BENEFITS:
Round trip international airfare and taxes from North America
7 day ordinary Rail Pass
7 nights accommodation in either moderate, first class or deluxe hotels
PRICES EXCLUDES:
Travel insurance
Visa fees if applicable
Meals and beverages not specifically indicated
Optional excursions
Items of a personal nature
Gratuities

HURRY! OFFER ENDS FEBRUARY 6TH 2019
Price is per person based on twin/double, subject to availability and current exchange rates. Pricing reflects discount. Savings listed are the total savings based on two people (twin/double). Airline taxes, if applicable, are included. Please enquire about departures from other cities, single supplements, extensions or upgrades
Itinerary
Day 1: Depart from North America to Japan
Depart North America on your flight to Japan.
Day 2: Arrive Tokyo
On arrival at the airport, please make your own way to your chosen hotel. Tokyo has a wide variety of transport options that are so easy to use. We suggest either taxi or public transport (airport bus or metor) for this airport transfer, your Goway Asia experts can advise you on the options prior to travel. As this itinerary only has 1 night in Tokyo, we suggest you add on some pre nights to explore the city if time permits.
Day 3: Tokyo to Nagoya
Today you will activate your rail pass and start your journey. Japan has one of the most extensive, comfortable and modern rail systems in the world. Your first stop today is Nagoya which is only 1 hour and 40mins from Tokyo by train. With over two million inhabitants, Nagoya is Japan's fourth most populated city. It is the capital of Aichi Prefecture and the principal city of the Nobi plain, one of Honshu's three large plains and metropolitan and industrial centers.
Nagoya developed as the castle town of the Owari, one of the three branches of the ruling Tokugawa family during the Edo Period. Much of the city, including most of its historic buildings, were destroyed in the air raids of 1945. The Toyota Motor Corporation maintains its headquarters just outside of Nagoya. Explore on your own or we can pre-arrange a walking tour for you. There are also side trips from Nagoya to Takayama, Kiso Valley or Ise Shima that are possible. Breakfast included.

Day 4: Nagoya to Kobe
Kobe is the capital of Hyogo Prefecture and one of Japan's ten largest cities. Located between the sea and the Rokko mountain range, Kobe is also considered one of Japan's most attractive cities.
Kobe has been an important port city for many centuries. Its port was among the first to be opened to foreign trade in the 19th century alongside the ports of Yokohama, Nagasaki, Hakodate and Niigata. In 1995, Kobe was hit by the Great Hanshin-Awaji Earthquake, which killed over 5000 people and destroyed tens of thousands of buildings. Today the city is completely rebuilt, and few signs of the terrible event remain. Top attractions here are the Mount Rokko, Shin-Kobe Ropeway, Sorakuen Garden and of course Kobe beef! Breakfast included.
Day 5: Kobe to Hiroshima via Himeji Castle
After breakfast today, you will head to Hiroshima with a stop at the Himeji Castle on the way. Himeji Castle, also known as White Heron Castle (Shirasagijo) due to its elegant, white appearance, is widely considered as Japan's most spectacular castle for its imposing size and beauty and its well preserved, complex castle grounds. The castle is both a national treasure and a world heritage site. Unlike many other Japanese castles, it was never destroyed by war, earthquake or fire and survives to this day as one of the country's twelve original castles. The castle recently underwent extensive renovation over several years and was fully re-opened to the public in March 2015.
You will arrive into Hiroshima around the early evening, depending on how much time is spent at the castle. Breakfast included.

Day 6: Miyajima
Miyajima is a small island less than an hour outside the city of Hiroshima. It is most famous for its giant torii gate, which at high tide seems to float on the water. The sight is ranked as one of Japan's three best views.
While officially named Itsukushima, the island is more commonly referred to as Miyajima, Japanese for 'shrine island'. This is because the island is so closely related to its key shrine, Itsukushima Shrine, in the public's mind. Like the torii gate, the shrine's main buildings are built over water. There are also wild deer on the island that have become accustomed to people. In the day the deer wander around the same sites as the tourists, and in the evening they sleep along the walking paths. Make your way back to Hiroshima for overnight. You could overnight in Miyajima at one of their Ryokan's, chat with our experts to arrange that for you.
Day 7: Hiroshima to Kyoto
Hiroshima is the principal city of the Chugoku Region and home to over a million inhabitants. When the first atomic bomb was dropped over Hiroshima on August 6, 1945, the city became known worldwide for this unenviable distinction. The destructive power of the bomb was tremendous and obliterated nearly everything within a two kilometer radius. We suggest a visit to Peace Park this morning before boarding your train to Kyoto.
Only an hour and 37 minutes by train from Hiroshima, Kyoto served as Japan's capital and the emperor's residence from 794 until 1868. It is one of the country's ten largest cities with a population of 1.5 million people and a modern face.
Over the centuries, Kyoto was destroyed by many wars and fires, but due to its exceptional historic value, the city was dropped from the list of target cities for the atomic bomb and escaped destruction during World War II. Countless temples, shrines and other historically priceless structures survive in the city today. Some of Kyoto's main attractions are Nijo Castle, Sento Palace, Nishiki market, Kyoto Imperial Palace, Fushimi Inari Shrine and the preserved historic district of Higashiyama. There is so much to see, it may be worth extending your stay here. Breakfast included.
Day 8: Nara
Today we recommend you use your rail pass to visit Nara. Japan's first permanent capital was established in the year 710 at Heijo, the city now known as Nara. As the influence and political ambitions of the city's powerful Buddhist monasteries grew to become a serious threat to the government, the capital was moved to Nagaoka in 784 and a few years later to Kyoto.

Nara is located less than one hour from Kyoto and Osaka. Due to its past as the first permanent capital, it remains full of historic treasures, including some of Japan's oldest and largest temples. Some sites of interest Todaiji Temple, Horyuji Temple, Heijo Temple and Omizutori to name a few. Breakfast included.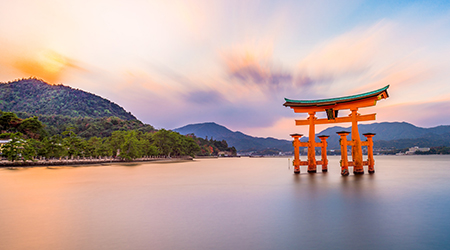 Day 9: Depart from Japan to North America
Today is your last day in Kyoto but why not extend and stay longer, there is so much to explore. Once you have checked out of your hotel, please make your way to the airport by public transport or taxi, your concierge at the hotel can assist.
Depart Japan on your flight, arriving North America the same day.